DOG BITES
STRICT LIABILITY:
In the State of California, the legislature has determined that a dog owner is strictly liable when his or her dog bites another person in an animal attack, with the few def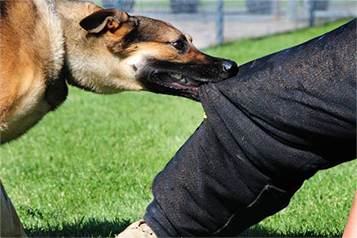 enses available listed here. This means there is no requirement that the dog had to be known as "dangerous" by the owner in order for the owner to be made to pay up for the bodily and emotional harm caused by the animal.
In order to recover money, you must first prove:
That the victim was not a trespasser
Who owns or controls the dog.
Victim suffered an injury, for which monetary compensation may be awarded.
There are steps you should take after being bitten
by a dog.
You should seek immediate medical attention for your injury.
If safe, you should attempt to take a quick photograph of the dog for later identification.
Attempt to learn the name and address of the dog's owner or caretaker.
Contact the local animal control office and/or police department to report the attack.
Attempt to obtain the dog's license tag information to ascertain if it has the required rabies and other inoculations.
If you sustained an injury, and if medical treatment is not provided through your health insurance, our firm is prepared to arrange any required medical treatment by our network of participating physicians and hospitals. AghabiLaw will help you recover via either, the dog owner's homeowner's insurance, car insurance, animal, or even if the owner has no insurance. If you've been bit by a dog, or know of someone who has and needs legal advice, please call (800) 454-8454 to speak to an attorney for free.
Talk to use! We promise we can help you!
Are you having any problems but yet
not consult to anyone?

I had a great experience with this law firm everyone that helped us were great I didn't know what to do after the car accident I am glad I called they told me what to do and made me feel better thank you so much
Sharol G.
Client Position

Mr. Aghabi will go out of his way to make sure you and your loved ones are taken care of. My father suffered injuries as a result of a car accident last year. Mr. Aghabi demonstrated great professionalism and seriousness throughout the entire process and was able to get my father the treatment he needed to alleviate the pain. There's a humane side to Mr. Aghabi that really helps his clients stay positive when things are tough. If you are ever in need of understanding, professional, and caring representation look no further. 5 stars.
Daniel V.
Client Position

I was recently a car accident and required medical assistance for a few months. Attorney Elias Aghabi was very helpful and made sure I received the medical help I needed. I'm very thankful for the fact that he followed up weekly and for making sure that I was doing well. I definitely recommend Attorney Elias, he not only takes care of getting a good settlement but also cares for his clients' health.
Esmeralda G.
Client Position

Was referred to Mr, Aghabi by a friend after I had a personal injury. Not only is he so attentive, he really cares for you and is very available for any questions! He tells you step by step what the status is and gives you options and advice. Very fast and efficient service.. He is a really kind and caring, you don't find people like him easily. I highly recommend him for any of your needs. If he doesn't practice the law you need, he will give you a recommendation. He is fair, honest and nice!
Lydia P.
Client Position

He handled our personal injury case after we were hit by a drunk driver, he was compassionate and professional and made sure we had all the medical care we needed so we could be safe and healthy
Ari W.
Client Position

Elie cares greatly for each of his clients, but more than his kindness is his knowledge of the law making him a fantastic lawyer. I highly recommend you give him a shot.
Ronson M.
Client Position

Elias helped me get through my motorcycle accident from early 2015. Because of this service, I was able to receive the medical attention I needed as well as a nice settlement when I was done. The secretaries at the office checked on me periodically, ensuring that I went to my appointments & asking about my health. I've already recommended Elias to my friends. I appreciate all the help I've received from this service… This team definitely helped me make the best of a bad situation. Thank you so much.
Robert T
Admin

Well I have used this attorney in another case and as my check had just cleared I was in a car accident on my way to work. So I gave him a call and when I told his Manager Evelyn what had just happened to me instead of questioning if I needed to be represented her focus was on me and my emotional status. She has been great, calls me after dr appoinments to follow up on how Im feeling. He is one to fight for you and makes sure he doesn't give up, He tells you straight as it is and what to expect so there was never a shock that came out of me,,,, That was until he called me to tell me about my settlement!! I couldn't belive how much money he got for me, I would say but family gets funny after some gets momey! LOl no but on a serious note I strongly recommend his practice and his GREAT TEAM.
Mima H.
Layerdrops
Contact With Us
Every Person Who Walks Through Our Door
Is Important To Us.
AghabiLaw is prepared to immediately respond to injured victims and families who reach out to our firm during their times of need. Immediate action is taken to protect your rights, and AghabiLaw takes the time to thoroughly learn about you, your struggles, and your case. If you would like to begin learning more about your rights and how AghabiLaw may be of assistance, please contact us today!